Domestic Violence
Domestic violence (also referred to as intimate partner violence (IPV), dating violence, and relationship abuse) is the willful intimidation, physical assault, battery, sexual assault, and/or other abusive behavior as part of a systematic pattern of power and control perpetrated by one intimate partner against another. It includes physical violence, sexual violence, psychological violence, and emotional abuse. It is a pervasive epidemic affecting individuals in every community regardless of age, gender, race, religion, or sexual orientation, yet the problem is often overlooked, excused, or denied. This is especially true when the abuse is psychological, rather than physical. Emotional abuse is often minimized, yet it can leave deep and lasting scars. The frequency and severity of domestic violence can vary dramatically, however, the one constant component of domestic violence is one partner's consistent efforts to maintain power and control over the other. 
Noticing and acknowledging the warning signs and symptoms of domestic violence and abuse is the first step to ending it. NO ONE should live in fear of the person they love. If you recognize yourself or someone you know in the following warning signs and descriptions of abuse, don't hesitate to reach out. There is help available.
Domestic Violence Defined
Domestic violence can results in physical injury, psychological trauma, and in severe cases, even death. The devastating physical, emotional, and psychological consequences of domestic violence can cross generations and last a lifetime. It is not always easy to determine in the early stages of a relationship if one person will become abusive. Abusers may often seem wonderful and perfect initially, but gradually become more aggressive and controlling as the relationship continues. Abuse may begin with behaviors that may easily be dismissed or downplayed such as name-calling, threats, possessiveness, or distrust, and abusers may apologize profusely for their actions or try to convince the person that they do these things out of love or care. However, violence and control always intensifies over time with an abuser. 
Some examples of abusive tendencies include, but are not limited to: 
Showing jealously of the victim's family and friends and time spent away

Telling the victim that they can never do anything right

Accusing the victim of cheating

Keeping or discouraging the victim from seeing friends or family

Embarrassing or shaming the victim with put-downs

Taking the victim's money or refusing to give them money for expenses

Looking at or acting in ways that scare the person they are abusing

Controlling who the victim sees, where they go, or what they do

Dictating how the victim dresses, wears their hair, etc. 

Stalking the victim or monitoring their victim's every move either in-person or also via the internet or other devices

Preventing the victim from making their own decisions

Intimidating the victim with guns, knives, or other weapons

Threatening to hurt or kill the victim's friends, loved ones, or pets

Pressuring or forcing the victim to use drugs or alcohol

Preventing the victim from working or attending school, harassing the victim at either, keeping their victim up all night so they perform badly at their job or school

Destroying the victim's property

Pressuring the victim to have sex when they don't want to or to do things sexually they are not comfortable with
Power and Control
Domestic violence is a pattern of abusive behaviors used by current or former partners to gain or maintain power and control. BCSH follows the Power and Control Wheel framework development by the Domestic Abuse Intervention Project in Duluth, MN ("The Duluth Model") for describing abuse. The wheel below is a diagram of tactics than an abusive partner uses to keep or maintain control of their victims in a relationship. It is not possible to completely summarize the true complexities of relationship abuse in a single diagram, but the Power and Control Wheel presents a lens through which to view and examine domestic violence. Learn more at the Domestic Abuse Intervention Project.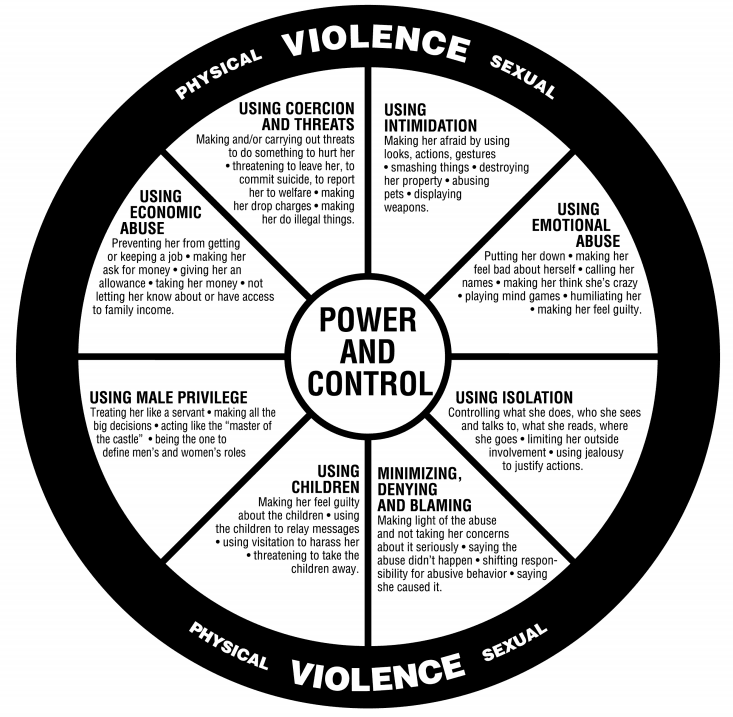 Get Help Now!
If you or a loved one is experiencing domestic violence, help is available! Call our 24/7 Helpline at (906) 524-7078 for free, confidential support and information.